Episodes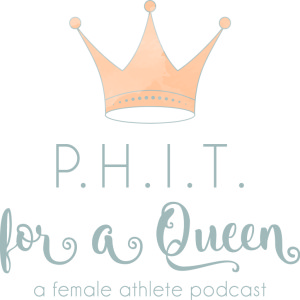 Friday May 31, 2019
Friday May 31, 2019
Nathan Carlson from Running Mate KC shares on PHIT for a Queen
Desired to run each day faster than the other and found that his body wasn't able to withstand the training.
This led him to his interest in physical therapy specifically for running.
When looking at injuries we must look at so many different variables to put them at their best place to come back to health.
Consistency is key with injuries- training, mindfulness, progression
There is never One workout that is the workout.
Injuries- does it go away, or does it require an adjustment?
Tendinopathy & bone injuries continue to be the leading injuries in female athletes
Heavy lifting helps to make tendons thicker & bones denser.
Lifting also helps to improve running economy.
Ideal situation runners lift twice a week, 30 minutes
Daily do something from the hips, knees, lift something or pull something
So you know he is legit:
Nathan Carlson received his Doctor of Physical Therapy from Rockhurst University and focuses on the management of runners and triathletes. He is a USA Track and Field Coach and combines his extensive experience working with endurance athletes to provide the most comprehensive care in the Midwest. His specific clinical interests include the management of bone stress injuries and tendon related disorders. Aside from patient care, Nathan manages multiple local runners and triathletes strength training programming. Nathan has one simple goal. Provide the highest quality injury management and training experience for endurance athletes of all levels. Lastly, Nathan helps manage Chris Johnson's mentorship group the Runners Zone which helps coaches, clinicians, and dedicated endurance athletes refine their abilities at injury management, coaching and strength training.
Current Roles:
Owner of Runningmate PT and Performance
Physical Therapist for UMKC Cross Country and Track
The host of The Runner's Zone Podcast
Manages The Runners Zone (mentorship group for clinicians, coaches, and dedicated endurance athletes) along with Chris Johnson and Joel Sattgast
Nathan also enjoys running, cycling, drinking coffee and spending time with his wife and two boys.