Episodes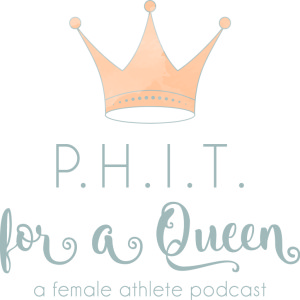 Friday Jun 28, 2019
Friday Jun 28, 2019
John Hohlt from The Fellowship of Christian Athletes (FCA) shares on PHIT for a Queen how using Christ through sport to influence.
Went into coach due to the positive influence of his coach
We went to see the world transformed by Jesus through sport
Coaches can be the greatest influencer in the sports world
FCA wants to help complete the ministry
Coach's words have power
We are called to be ambassadors for Christ, and this doesn't change on the field
Do you want to be a legend, or do you want to build a legacy?
To learn more about FCA Camps in specific locations, visit www.FCACamps.org and watch the 2019 FCA Camps video here.
View the media page for FCA here. For more information about the Fellowship of Christian Athletes, visit FCA's web site at www.fca.org, its Facebook page at www.facebook.com/fcafans or its Twitter feed @fcanews.
Learning more about FCA:
Throughout more than six decades, the Fellowship of Christian Athletes (FCA, www.fca.org) has worked to bring coaches and athletes together through large events, exciting Camps and impactful Huddles. But the small, intimate groups that meet for Bible studies, devotions and prayer help athletes to truly lean on their brothers and sisters in Christ—and become closer to Him in the process.
FCA offers hundreds of resources, from sports-themed devotional Bibles to Bible reading plans that athletes can complete alone or with others. All are designed to help coaches and athletes further their walk with God.
"When coaches and athletes come together in the exciting setting of a game or match, they can go all out for Jesus on the field," said FCA President and CEO Shane Williamson. "But when they quiet their hearts, get into God's Word and fellowship with their teammates in Christ, that's when real Christian growth happens."
For example, on the YouVersion Bible reading app, FCA offers several reading plans, such as the 31-day RISE Devotional for Competitors, the 31-day Undefeated Devotional for Competitors, the 10-day True Competitor Sports Devotional, the seven-day Heart of a Coach Devotional and the 31-day Relentless Devotional for Competitors, among others. Additionally, those who want to delve further into the stories of each FCA Magazine can also follow along with five-day reading plans that supplement the interesting and uplifting magazine content.
Under FCA's numerous resources, coaches and athletes can find free devotionals, Bible studies, videos and reading plans for individuals, small groups or entire teams. Full collections on topics such as criticism, dedication, righteousness, injuries, accountability, fear and more allow coaches, team leaders, and parents to choose the subject that best fits each situation. FCA also offers free ice-breakers, games, and skits that can be utilized to bring groups together and help athletes get to know one another—all while deepening their learning about the Bible and God's love and grace.