Episodes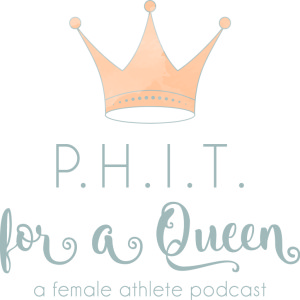 Friday Oct 26, 2018
Friday Oct 26, 2018
Dr. John Sullivan shares why "The Brain always Wins" on PHIT for a Queen  
The Brain is the Governor connected by the vagus nerve
The brain hasn't been viewed as cool because we don't tell a good story about it.
Why we should view mental health as brain health- "we don't know what human consciousness is"
Breath rate manages heart rate which also manages the brain.
Shares how brain management starts with PROCESS- listen to find what those stand for
When you can regulate heart rate and respiration rate you can regulate emotion.
Leaving you to be able to "see and do" emotion regulation, pattern recognition.
What if we viewed nutrition as the messages received to optimize brain health and function versus physical function? - "nutrition is neurotransmitters. "
Does our lack of social connection- eye to eye, hand to hand impact our brain health?
http://www.thebrainalwayswins.com/home.html
Some of the proceeds go back to the military where they can continue to study the brain and the impacts on war.
How you know he is legit:
Dr. John P. Sullivan is a Sport Scientist and Clinical Sport Psychologist. He has over twenty years of clinical and scholarly experience, including his work with the New England Patriots in the National Football League (NFL) for sixteen years assisting with the coordination of sport science and clinical care. Dr. Sullivan's experience also includes such work within the National Basketball Association, Major League Soccer, British Premier Football League, Premier Rugby League, Australian Football League, and Olympic national teams. He is an expert consultant for the elite military of the Department of the Navy and law enforcement in regard to performance and welfare needs.
As the Clinical Sport Psychologist/Sport Scientist for Providence College and the University of Rhode Island, he maintains positions in Sports Medicine and Sport Science. He is also the Assistant Director of the South County Sports Medicine Concussion Clinic in Wakefield, Rhode Island.  
Dr. Sullivan is a visiting scholar/sport scientist at the Queensland Academy of Sport (QAS)/Australian Institute of Sport (AIS) in Brisbane, Australian, examining the current state sports technology in the marketplace and its utility as well as concussion rehabilitation, cognitive training in sport, and sport recovery. He is also a visiting professor and researcher at Queensland University of Technology within the Institute of Health and Biomedical Innovation, Psychology, and Neuroscience departments focused on projects in athlete health, human performance, and neurophysiology (brain-based performance). Domestically, Dr. Sullivan also serves as an Instructor/Supervisor for Brown University Medical School Sports Medicine Fellowship.
He provides consultation to the NFL office on issues related to well-being and performance and is a member of the mental/behavioral health advisement group. Dr. Sullivan was one of five national experts identified by the National Collegiate Athletic Association (NCAA) to provide expert contribution to new guidelines for the NCAA Sports Medicine Handbook, and he is the co-lead author for the interdisciplinary consensus statement regarding the treatment of mental health issues with student-athletes, which is sponsored by the National Athletic Trainers Association (NATA) and the NCAA. Dr. Sullivan also serves as a Scientific Advisory for five sport technology companies providing support and oversight throughout the development process.
Dr. Sullivan is a national and international practitioner-researcher who conducts central nervous system (CNS) measurement/assessment, performance optimization, testing, talent selection, recovery training, and concussion assessment/rehabilitation. He has established expertise in psychophysiological profiling and developing cognitive abilities (e.g., decision making, complex reaction time, and read-and-react abilities) of elite performers. Dr. Sullivan uses various markers such as, Central Nervous Systems Assessment - DC Potential, Heart Rate Variability (HRV), Electroencephalography (EEG), Accelerometry/GPS, Multiple Object Tracking (MOT), Optic Flow (OF), and biofeedback to determine optimal training loads, recovery interventions, and maintaining as well as enhancing cognitive capabilities in performance environments.  
He is a frequent contributor writing on sport science and sports medicine for peer review journals and popular press (Australian Financial Review, The Atlantic, BBC Sports, ESPN, the Guardian, Huffington Post, New York Times, the Daily Morning Telegraph, the Telegraph, Sports Illustrated, and the Sydney Morning Herald). He has also co-authored a book focusing on the latest cognitive science and neuroscience related to optimal brain performance entitled The Brain Always Wins (Urbane Publishing London UK Ltd).
He has co-authored three recent chapters; the first on the merging of technology, neuroscience, biofeedback, and sport/performance psychology in Sport psychology: On the way to the Olympic Games; and the second chapter focusing on well-being and mental health issues in athletes within fundamental concepts in sport and exercise psychology; A project sponsored by the International Society of Sport Psychology, and the third chapter for the American Psychological Association (APA) book - Career Paths in Psychology: Where Your Degree Can Take You 3rd edition - focusing on working in sport and the role of Sport Psychologists and properly defining the title, role, and credentials.